---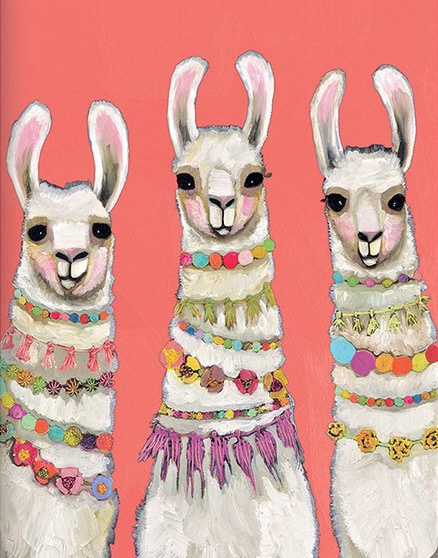 Eli Halpin: Boho Llama Notebook (Pink)
---
Lightweight notebooks measure 7.25" x 9.75". Notebooks feature Eli halpin's bold, colorful artwork embellished with shimmering gold foil stamping, has stylish rounded corners and 80 lined pages; perfect for home, school or office.
GET TO KNOW THE AUSTIN ARTIST: Eli Halpin
Eli Halpin grew up in Alaska and now lives and paints full time in Austin Texas.Her focus is on animal facial expressions while enjoying and celebrating their paws, cheeks, whiskers, claws, hooves, antlers, horns and tusks.
Eli uses thick oil paint and she loves to add acrylic, paper, metal leaf, spray paint, fabric, lace, ribbons, gemstones, sparkles, shells, crushed glass, beads, sand, mica, and pearls.Eli paints on wooden painting surfaces made with maple, birch and masonite in addition to hand crafted stretched canvases.
We've carried Eli's cards, notebooks & water bottles in the artisan since March 2017! Eli was discovered by AFTP on Instagram.