---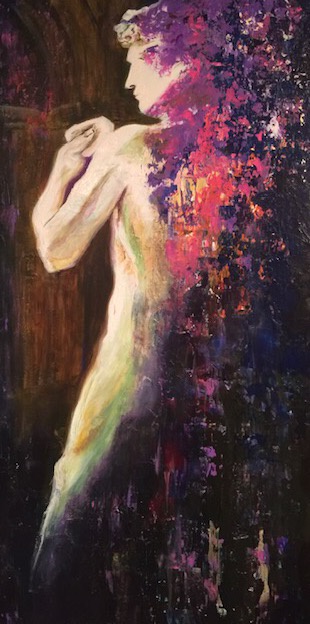 Lorena Masferrer: David's Dance
---
David's Dance
Lorena Masferrer  
Mixed media on canvas
24" x  48"
I had a very hard time leaving the Galleria dell' Accademia. All I wanted to do was to stay behind and see the statues at night, with no one else around. Mostly, I wanted to stay behind and see David in all his splendor all to myself. If I could make this happen-after a few hours of sketching him & photographing him, I would play some great music and just dance my heart out, right beside him. 
Get to Know the Austin Artist:
Lorena was born in Chile, came as a political refugee to the US with her family at 10 years old.
Lorena has been a passionate artist for all her life, has lived in numerous states and happily calls Austin home. Her exposure to different cultures and travels have sparked an obsessive love of art, nature and traditions. Lorena brings the colors and beauty of places, people, and cultures together into her unique vision.  Sharing her art in every community where she has lived through artists' coops, painting societies and exhibitions in numerous galleries. Lorena knows that she owes the interpretations on her canvasses to her collective experiences, which shape her vision and fulfill her craving to see beauty and life from various unique perspectives: all with a touch of color That is all her own.