---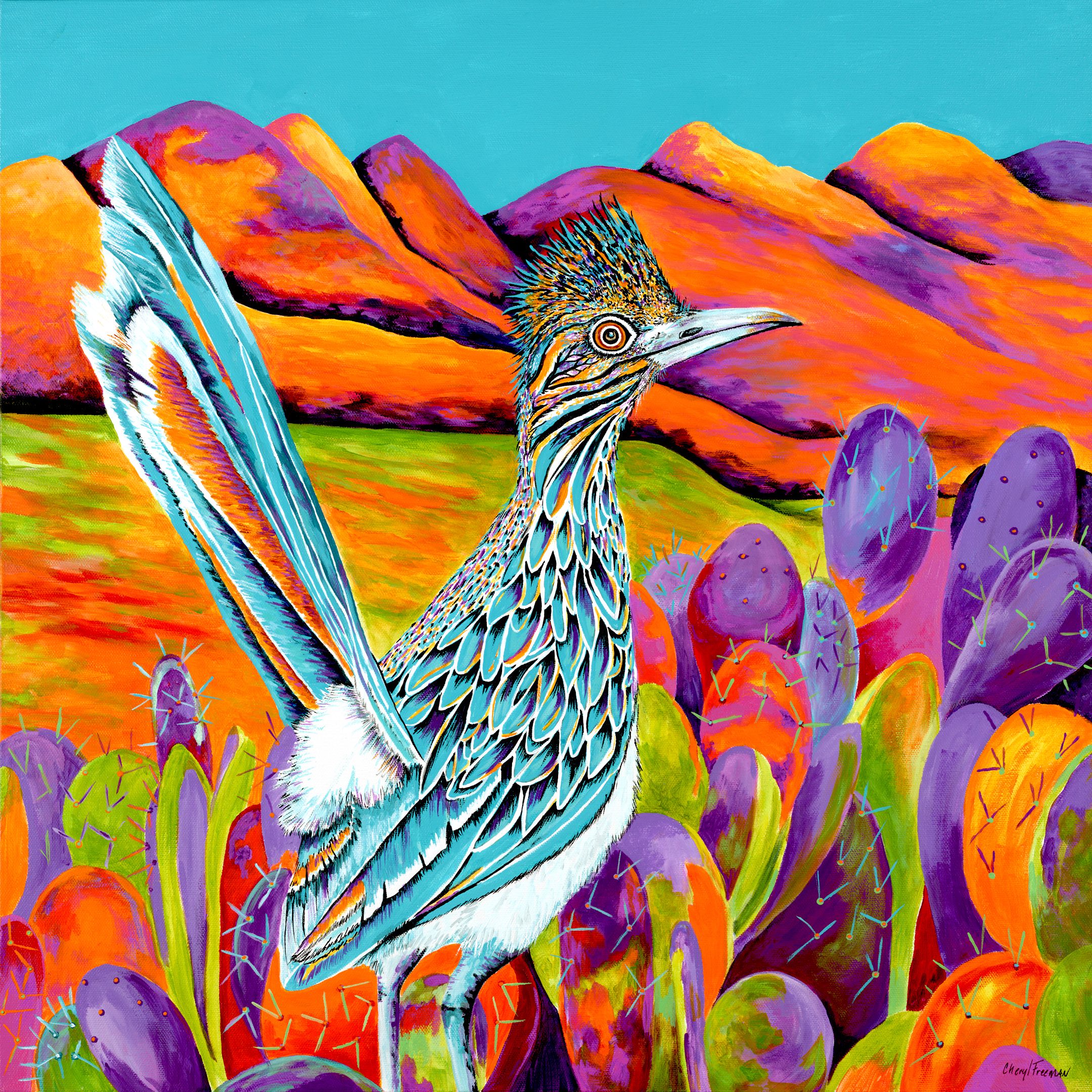 Cheryl Freeman: Tranquil Pause
---
Tranquil Pause
Cheryl Freeman
Acrylic on gallery wrapped canvas
24" x 24"
Inspiration:  The inspiration for "Tranquil Pause" came from a period in time where I kept seeing roadrunners.  It was so frequent that I was drawn to learn more about this captivating bird. It has been said that this "spirit animal" is believed to have special powers and bring good fortune.  They symbolize intelligence, courage, determination, and awareness. Roadrunner symbolism reminds you to take quick action on your ideas and see them through to completion. "Tranquil Pause" is reflective of discerning your path and following your vision.
Get to Know the Austin Artist:
My name is Cheryl Freeman and I am a native Texan, living in
Round Rock. Creating art has been my passion since childhood. I created my first mural at the age of four using my mother's ruby red lipstick all over the pink walls of my bedroom. I created a masterpiece! My parents didn't punish me they just painted over the walls! Since then my talents have grown, but I still have the wonder of a child's heart while creating my art!
Painting comes naturally to me. I have inherited this gift from my father,
Calvin Freeman, who inspired and encouraged me to not only be an artist, but also an Art Educator. I have a master's degree in Education with an Art Specialization. In the past year I retired from full time teaching Visual Art . I have over 29 years of teaching experience in both Leander and Round Rock ISD, and 25 plus years as a professional artist.
I was lucky to have had a wonderful job that let me help children create and explore new possibilities! I loved the sweet innocence of the younger ones when they would say, "Wow! You should be an artist when you grow up!" Well...if you know me, I'm not sure when that's going to be! Who really wants to grow up?
I mostly enjoy working with acrylic and watercolor, but recently I have been inspired to dabble in mixed media as a new expression. I also like to create inspirations from particular artists such as O'Keeffe, Van Gogh, and Klimt, as they were some of my favorite artists to teach about. I enjoy painting with bold colors, creating patterns and textures, and the interplay of the abstract to the somewhat realistic!