---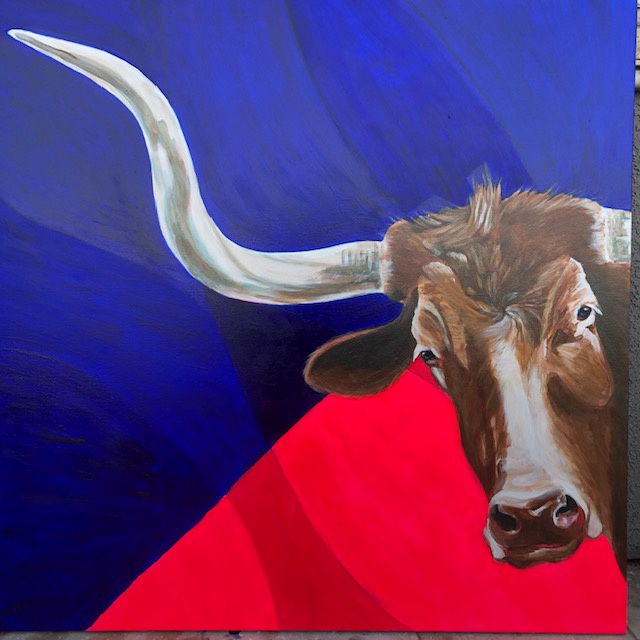 Lorena Masferrer: Moo, Bro
---
Moo, Bro
Lorena Masferrer
Acrylic on canvas 
48" x 48"
I had never seen a longhorn before moving to Austin about 10 years ago. It was love at 1st sight- Everything about these gorgeous bovines melted my heart! As soon as I stumbled upon this photo, this face, those eyes, I knew I had to paint him big and in an unexpected setting.
"Moo, Bro" brought happiness into the room, even before he was completed. And even naming him gave my family and I many good laughs too!
Longhorns will continue to appear in my artwork since they are pure joy to capture!
Photo cred: Red Fire Woman
Get to Know the Austin Artist:
Lorena was born in Chile, came as a political refugee to the US with her family at 10 years old.
Lorena has been a passionate artist for all her life, has lived in numerous states and happily calls Austin home. Her exposure to different cultures and travels have sparked an obsessive love of art, nature and traditions. Lorena brings the colors and beauty of places, people, and cultures together into her unique vision.  Sharing her art in every community where she has lived through artists' coops, painting societies and exhibitions in numerous galleries. Lorena knows that she owes the interpretations on her canvasses to her collective experiences, which shape her vision and fulfill her craving to see beauty and life from various unique perspectives: all with a touch of color That is all her own.