---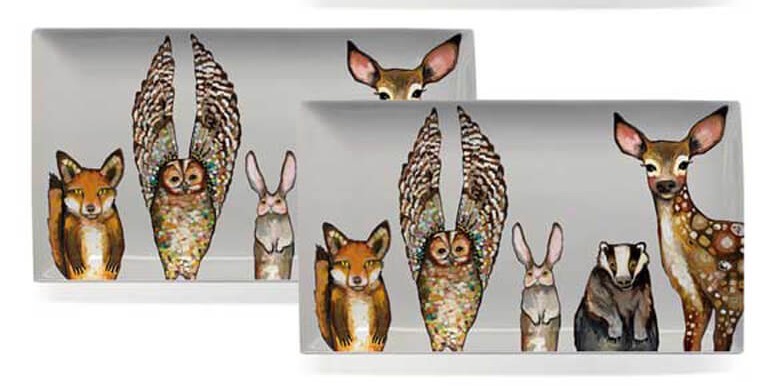 Eli Halpin: Forest Animals Tray
---
Forest Animals Medium Tray
Eli Halpin
Porcelain Tray
9.75" x 5.5" x .85"
Invite these sweet Forest Animals to your table on this decorative dish! 
Decaled porcelain
Hand-finished
Food Safe
Microwave & dishwasher safe (except items with a metallic rim)
Imported
GET TO KNOW THE AUSTIN ARTIST: Eli Halpin
"Eli Halpin grew up in Alaska and now lives and paints full time in Austin Texas. Her focus is on animal face expressions while enjoying and celebrating their paws, cheeks, whiskers, claws, hooves, antlers, horns and tusks.
Eli uses thick oil paint and she loves to add acrylic, paper, metal leaf, spray paint, fabric, lace, ribbons, gemstones, sparkles, shells, crushed glass, beads, sand, mica, and pearls.Eli paints on wooden painting surfaces made with maple, birch and masonite in addition to hand crafted stretched canvases." -Eli Halpin