---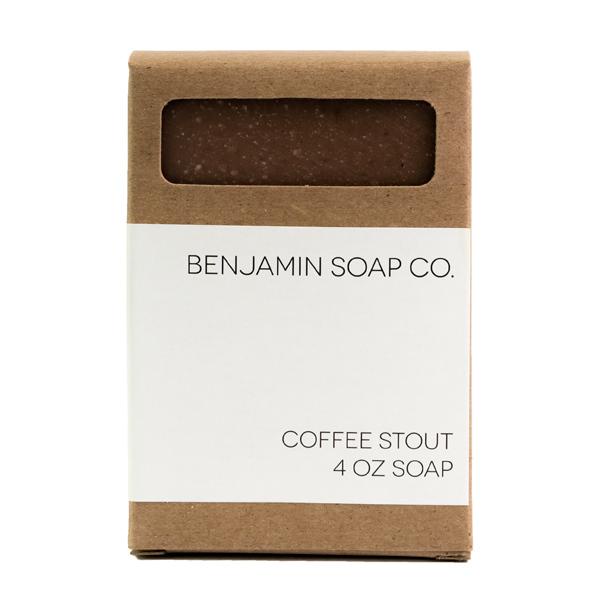 Benjamin Soap Co: Soap: Coffee Stout
---
Coffee Stout Soap
Benjamin Soap Co
Austin Tx Company 
Coffee Stout beer soap is made with Zilker Brewing Company's coffee stout beer. Rich coffee notes, and crisp beer make this a great moisturizing bar for all skin types.
Ingredients: Saponified oils of sustainable palm, sunflower, coconut, and olive oils, shea butter, Round Rock Honey, oats, and a blend of essential oils.
PLEASE NOTE: "Handmade soap will last a long time if kept dry between uses. Please use a draining soap dish and keep it away from direct streams of water."-BSC
Benjamin Soap Company was established in 2014 with the sole mission of making pure, additive free home+body products affordable for everyone. We strive to use the purest ingredients and source locally when we can.
Get to Know the Austin Artist: Jae Benjamin of Benjamin Soap Co
"Our process is focused on appreciating the simplicity and beauty in nature. Each product from our cold process soaps to our hand poured soy candles is handcrafted in small batches. We use plant based oils, 100% pure soy wax, which is sourced from Canadian grown soybeans, wild crafted and homegrown organic herbs. We use minimal packaging that is recyclable and biodegradable. We support and collaborate with local makers sourcing ingredients like raw honey, freshly roasted coffee beans, craft beers, Texas wines, and even distilled spirits."-Jae Benjamin