---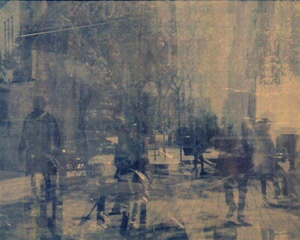 Michael Bayer: Accidental Austin (Photo)
---
Accidental Austin
Michael Bayer
35mm Film on Luster Print
8"x10"
A happy accident.  What I thought was a roll of 24 exposures of expired Fujifilm turned out to be 12.  This was unbeknownst to me until I reached shot number 30 on my Pentax K1000, and the advance lever had not stopped.  This shot was formed when the take-up spool broke the perforations on the film and allowed the last frame of the roll to capture shot after shot of my downtown exploration. This continued somewhere between 12-14 images were captured in this frame.  What resulted is an amalgamation of the hustle and bustle of modern city life with a very classic and old-school feeling.
Get to Know the Austin Artist:
My name is Mike Bayer, and I am a photographer living in Austin.  I have been shooting for about 3-4 years, and enjoy everything from landscapes to portraiture to street photography.  I have more recently become interested and involved in 35mm film due to its unmistakable aesthetic. I am also a lead guitar player and vocalist in my blues band, Victory Over Me, and a home brewer of all things beer.  I'm very excited to be involved in this exhibition!