---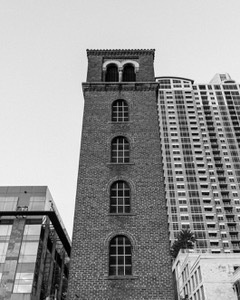 Michael Bayer: Old, Meet New (Photo)
---
Old, Meet New
Michael Bayer
Digital B&W Image on Luster Print
8"x10"
The Buford Tower is a story of overcoming obsolesce and growing pains in Austin's endeavor of expansion.  The structure was built as a fire drill tower in the 30's and was used for such until high-rise buildings began to overtake the Austin's downtown proper.  New taller buildings and new firetruck technology rendered this five-story test-site a less than ideal training scenario for a modern world. The tower was repurposed as a bellower, saved from destruction by the builder's widow, and the classic architecture can be seen in this shot juxtaposed against an ever evolving Austin skyline.  
Get to Know the Austin Artist:
My name is Mike Bayer, and I am a photographer living in Austin.  I have been shooting for about 3-4 years, and enjoy everything from landscapes to portraiture to street photography.  I have more recently become interested and involved in 35mm film due to its unmistakable aesthetic. I am also a lead guitar player and vocalist in my blues band, Victory Over Me, and a home brewer of all things beer.  I'm very excited to be involved in this exhibition!