---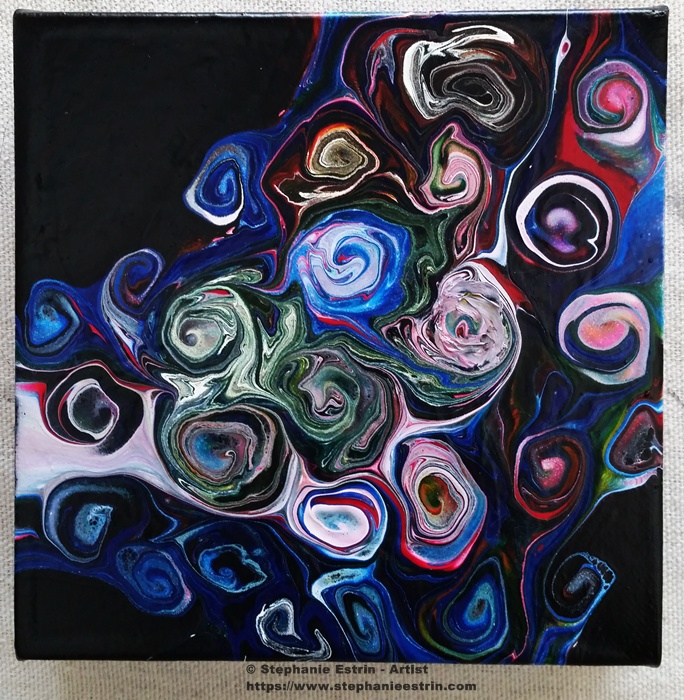 Stephanie Estrin : Fluid Art #356
---
Fluid Art 356
This fluid art painting is 6" X 6" on gallery wrapped canvas with the painting continued over the sides. It will come with a sawtooth hanger for you to hang in whichever direction pleases you best, or it can sit on a table or shelf. It will be coated with a gloss varnish to protect from dust.
The purchase of this original artwork does not transfer reproduction rights. All rights remain with the artist, Stephanie Estrin.
Please note that all monitors are different and this image may appear lighter or darker on your screen compared to the actual painting. Every effort was made to accurately depict it's likeness.
Get to Know the Austin Artist: Stephanie Estrin
My work explores the relationship of human nature and emotion captured on canvas that embody my feelings in the moment. I begin each work with marks, brush strokes, and even my bare hands filled with paint to get fully immersed in the process.  It's intuitive, physical and emotionally freeing. Through additive and subtractive processes, I create layers of colors and marks. Some of the marks and beginning layers of color are partially or completely covered. All of this amounts to a visual story. I use many layers and transparencies in my compositions to provide depth and to entice the viewer to look closer under the surface to be delighted or intrigued by what they see.  My art is characterized by vibrant colors, contrasting shapes, and bold compositions.
My biggest motivation is connection. To me, painting is about connecting to my inner self and to the viewer. When I paint, I am fully present and what emerges is an intrinsic language that is highly personal, yet at the same time, universal as we all have emotions. With the use of color, I strive to make statements through my art that are positive and uplifting; providing my viewer a glimpse into my world. Given my spontaneous process, each of my paintings holds a unique energy.  I express myself through paint in a way that I can't do as effectively with words. Through this 'language' my thoughts and feelings are interpreted and transferred onto the canvas. I enjoy exploring color to provoke emotional responses and expression. It's my intent to allow the viewer space for their own personal interpretation of what they see and feel.