---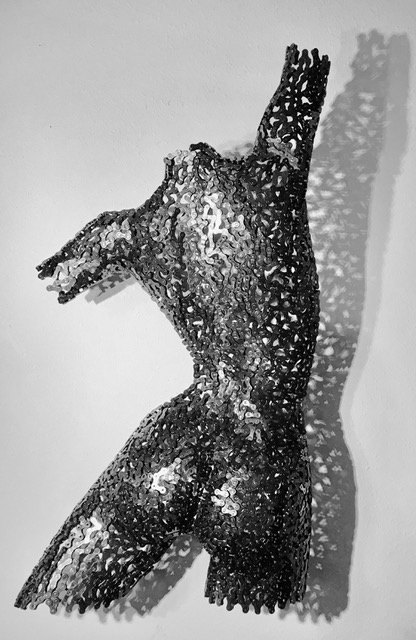 Stephen Feher: The Dancer
---
The Dancer
Stephen Fehér
Bicycle Chain
Steve's daughter, Sonya, is close friends with Alicia Philley who was one of our artists participating in Wet, Wild & a Wee Bit of Whimsy….That's how we got the unique bike chain art!!!!
Get to Know the New Mexico Artist: Stephen Fehér
 "A retired psychologist, I have been creating sculpture for more than 25 years. I began creating in stone, and much more recently began working in metals; steel, sheet copper, and molten copper with added alloys. Currently I predominantly work with metals, especially bicycle chains. In all my work I have enjoyed making curvy, soft forms with materials that are hard. In metals, I work inside "negative space" in concrete forms from the back, only seeing the final product when it is removed from the form. The concrete forms are made from mannequins or life casts. Recently I have begun pouring bronzes from life casts and other forms.
   I have begun pouring molten metal through already formed bicycle chain pieces, in effect using the bike chain piece as a 'skeleton' for the molten copper/bronze sculpture. I am also experimenting with pouring molten metal on the outside of forms, as I have with the molten globe pictured in the bronze one-of-a-kind sculptures.
The bicycle chain pieces have elicited many different comments, including that the patterns created are intrinsically attractive, that the alternation between light and dark is interesting, that there is a Yin-Yang energy in the work, and that the shadows cast a lacy texture, with the shadows being a manifestation of Yin energy in contrast to the hard metal Yang materials and process. My work is in collections in New Mexico, Texas, Arizona, Colorado, Florida, California, and Chicago, Illinois."-SF