---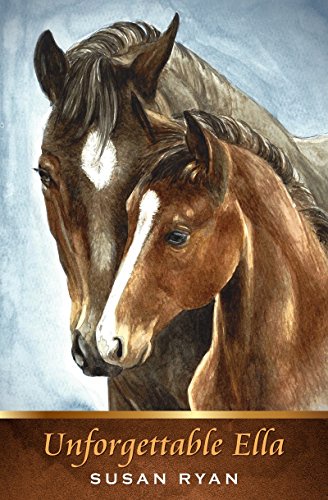 Susan Ryan: Unforgettable Ella Book
---
Unforgettable Ella
Susan Ryan
Illustrations by Katie Ryan Donohue
190 pages 
Horses & Girls...how does it get better??? We discovered this fantastic book when Katie Ryan Donohue mentioned that she had just finished illustrating a book for her Mom...Susan Ryan! Katie is one of Austin's very fabulous artists!!!!!!!
Nicole's life is turned upside down when she has to make a choice between college or her beloved horse Ella. As she is packing for college she finds a long forgotten photo of a wobbly Ella taken only moments after she was born.The photo spurs memories of her wonderful relationship with Ella from the time she was just a young girl until the day she leaves for college. As you read about the memories of their journey together you are taken inside the horse world from the glamorous thrills and spills of showing to the dirty hard work of cleaning stalls and putting up hay. The real treasure of this book however, is how the love for her horse and the time they spend together transforms this young girl into a stronger, kinder, more compassionate person, who reaches goals thought impossible. You will see that with Unforgettable Ella love can truly be restorative.
Get to Know Susan Ryan: Author
Sue Ryan grew up in Green Bay Wi and never remembers a time when she was not enamored with horses. As a little girl, her family fell on hard times and they had to move from the city to the country. Her new neighbors had some horses that she fell in love with. Soon, she helped with the horse work and learned to ride. She worked closely with her neighbors until she entered college at UW-Stevens Point where she earned a degree in Communicative Disorders. Shortly after college she married and raised her four children on a small horse farm in the Madison, WI area. Over the years she trained, bred and showed horses. During these years she shared the love of horses and the outdoors with her children and friends. As District Commissioner of the local Pony Club, she saw firsthand how interacting with horses and the wonderful people that love them change the lives for the better of many youths.
She wrote Unforgettable Ella from the memories of the horses and wonderful people that passed through her life. She wanted to share the joy of how a close relationship with these wonderful animals can truly affect a life in a positive way.
Get to Know Katie Ryan Donohue (Austin Tx Artist): Illustrator
I have always felt a strong interest and connection to wild nature and animals of all kinds, both of which are constant themes in my paintings. When I am not painting, drawing or teaching, I am spending time with my son, my dog and my husband.